World No Tobacco Day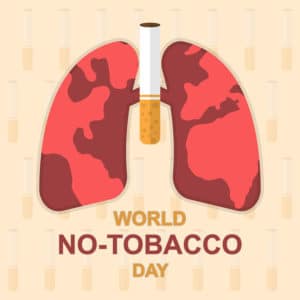 Every year, May 31st is World No Tobacco Day, hosted by the World Health Organization (WHO). This day focuses on the link between tobacco use and cardiovascular diseases. Most of us know that the use of tobacco involves great risk in many aspects of our health, but many people still struggle with the addictive ingredients in cigarettes and other tobacco products. Stroke and cardiovascular diseases have a clear link to tobacco use, so this day reminds us that our health is more important than any addictive habits we may have.
Tobacco use kills more than 7 million people each year, due to long term side effects of use and the diseases that it causes. Even worse, 1 in 2 children are exposed to secondhand smoke in  their homes, putting them at an equal risk of developing diseases caused by tobacco exposure. According to the WHO, tobacco threatens us all, and this couldn't be more true. The American Lung Association claims that, "Secondhand smoke causes approximately 7,330 deaths from lung cancer and 33,950 deaths from heart disease each year." For such a preventable cause of death, these statistics are surprising, but this just proves the importance of awareness holidays such as World No Tobacco Day and the impact they can have on tobacco use in the U.S. to learn more statistics on tobacco use, click here.
It's crucial to be informed about the effects of tobacco and what it may do to your health. So thanks, World Health Organization, for creating national holidays like this to put an end to tobacco use!