Lubricity, an innovative oral spray, is scientifically designed to provide much desired comfort and relief to those suffering from symptomatic xerostomia.
Sodium Hyaluronate, also known as Hyaluronic acid and a natural lubricant, distributed widely throughout soft tissues and joints of the human body, is the main ingredient. Lubricity forms a flavorless gel film that coats the oral mucosal tissue for a long lasting, superior tissue on tissue lubrication. With effects lasting up to 4 hours, this unique formulation provides significant improvement in the quality of life of those suffering from chronic persistent dry mouth symptoms.
Regulatory Compliance Statement
Lubricity® has been cleared by FDA and manufactured under current Good Manufacturing Practices to provide safe and effective relief from Xerostomia and other causes of dry mouth.
Made in USA: Lubricity® is manufactured and packaged in Buffalo, NY USA at an FDA registered facility.
Warning: Do not apply Lubricity® if any of the following conditions apply:
Pregnant or nursing
Plastic safety seal is missing or broken
Medical conditions that conflict with the product
Allergy to any of the ingredients
Not for use by people under 18 years of age. Keep out of reach of children.
Stop using and consult your doctor in the event of redness or soreness of mouth tissue.

INGREDIENTS​
Lubricity contains only 5 ingredients:
hyaluronic Acid
xylitol
sodium benzoate
potassium sorbate
water
Explore Products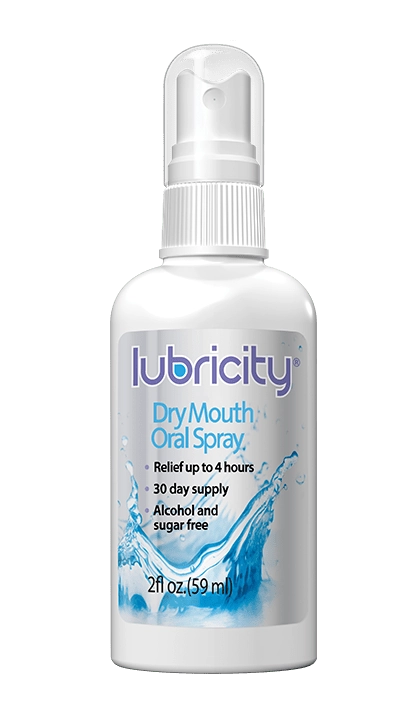 HOW TO USE LUBRICITY FOR BEST RESULT