Lee Tomlinson Loves Lubricity
Our representative, James, was lucky enough to meet Lee Tomlinson at the Oncology Nursing Society 43rd Congress this year. Who is Lee Tomlinson? A truly inspiring character with a great story to tell. During his C-Level Exec career, Lee was diagnosed with Stage 3+ throat cancer and was admitted to the hospital for treatment. During his time there, he experienced a lack of compassion by the staff of the hospital, pushing him towards a breaking point and resulting in thoughts of suicide, only diminished by one compassionate act by a friend.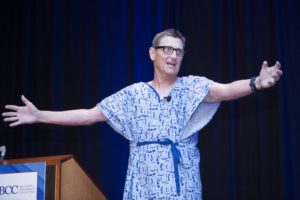 This led Lee to want to devote his life to reconnecting medical professionals to the compassion that they once had when choosing that career path. He created the C.A.R.E. Effect Movement, which aims to do exactly this. Lee has become a keynote speaker, an author, and a TED Talk Speaker, among many other things.
We got to meet him and speak with him about his experiences, and of course we offered him Lubricity to try. A few weeks later, we got an email, and we were thrilled. He loved it! This is what he said: "It has become indispensable for me. It has a neutral taste and doesn't have to be shaken, stirred or fiddled with. Totally fabulous!"
We're SO happy that we can help someone who has helped so many other people. Thanks so much, Lee!
Check out Lee's TED Talk and learn more about his journey with cancer right here: https://vimeo.com/172051981