DRY MOUTH RELIEF THAT LASTS
Lubricity Dry Mouth Spray works different from other products. Its innovative formula helps alleviate the symptoms of dry mouth for up to 4 hours! It forms a flavorless gel film that coats the mouth and provides lasting relief from the most persistent dry mouth symptoms. 
ASK YOUR DOCTOR FOR A FREE SAMPLE
We work with physicians around the U.S. to bring Lubricity to those who need the most effective and reliable dry mouth product.
Lubricity is a flavorless, odorless solution that alleviates the symptoms of dry mouth. It provides a soothing, moist feeling for up to 4 hours per single use when applied as directed.
Our formula has only five ingredients. The main one is hyaluronic acid (HA), known among scientists as "nature's lubricant." This ingredient is naturally produced in our bodies. It has a great ability to retain moisture and can be easily absorbed in the mouth. Lubricity also contains xylitol, which prevents bacterial growth in the mouth, reducing the risk of infection. 
Other ingredients include water, sodium benzoate, and potassium sorbate.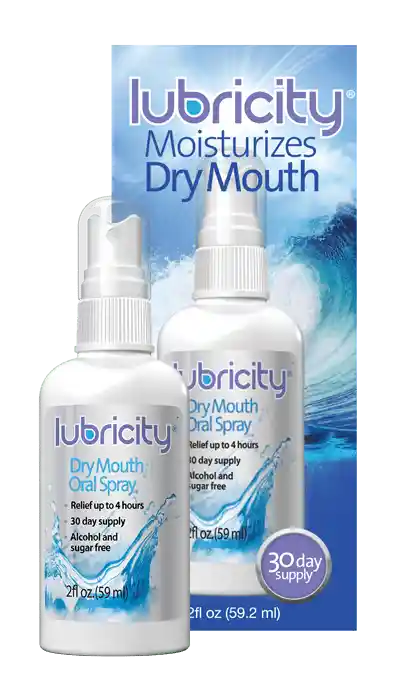 Lubricity has provided relief from dry mouth to many people. Try it and see if it can help you too.
Great moisturizer for dry mouth. Lubricity is a wonderful product. I have tried many moisturizers for dry mouth and this is by far the best I've had.
Love it! Lubricity is wonderful! My favorite thing is that there no flavor, and it has the consistency of real saliva. I have extreme dry mouth issue from Sjögren Syndrome and Lubricity is my new go to dry mouth spray!
I have been using it for a couple of months and it really helps with dry mouth. Using it as directed keeps my mouth really moist especially at night.
There is no need to get special toothpaste, special mouthwash, a spray and a set of drops together.
One bottle of Lubricity is all you need to get rid of dry mouth once and for all. Subscribe to our mailing list in the form below to get additional 20% OFF your order.