How Diabetes Can Lead to Dry Mouth
Diabetes is a chronic disease that affects millions of people worldwide. It is characterized by high blood sugar levels, which can lead to various health complications. One of the lesser-known side effects of diabetes is dry mouth, also known as xerostomia. In this article, we will explore the link between diabetes and dry mouth and solutions that can help.

How Diabetes Can Lead to Dry Mouth
Dry mouth is a common symptom of diabetes and is caused by a lack of saliva production in the mouth. Saliva is essential for maintaining good oral health as it helps to neutralize acids produced by bacteria in the mouth, which can lead to tooth decay and gum disease.
In people with diabetes, high blood sugar levels can damage the salivary glands, leading to a decrease in saliva production. This can cause a range of symptoms, including a dry, sticky feeling in the mouth, difficulty speaking, and trouble eating.
Additionally, people with diabetes are at an increased risk of developing oral health problems such as thrush, a fungal infection of the mouth, and periodontitis, a severe form of gum disease. These conditions can further exacerbate dry mouth symptoms and lead to additional oral health problems such as tooth loss.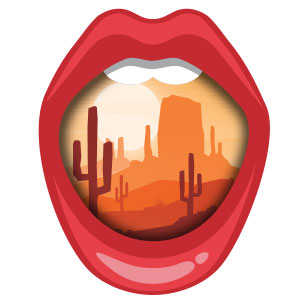 Lubricity Dry Mouth Oral Spray is an all-natural product designed specifically for people with dry mouth symptoms. It provides long-lasting relief by moisturizing the mouth and throat, reducing discomfort and making it easier to speak and eat.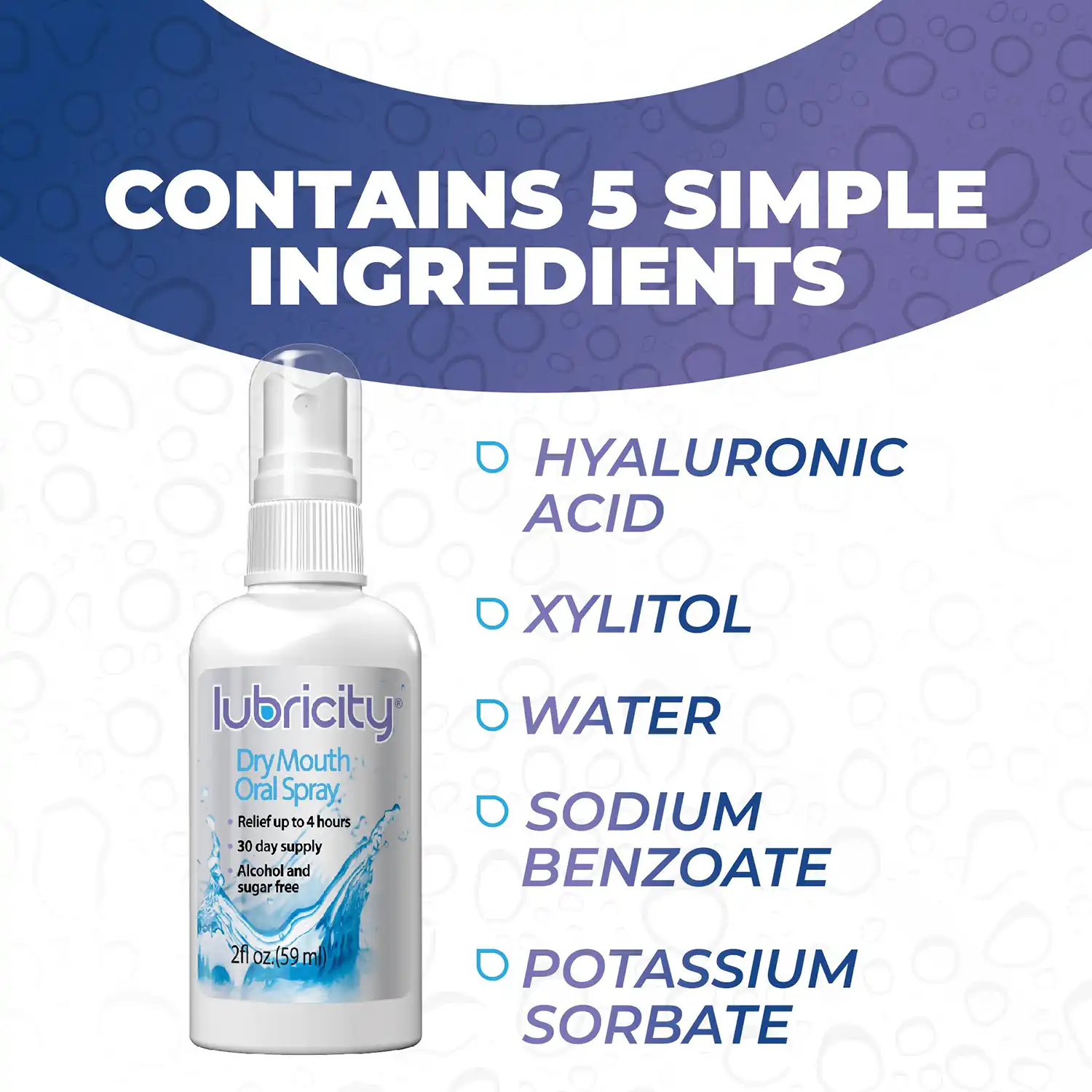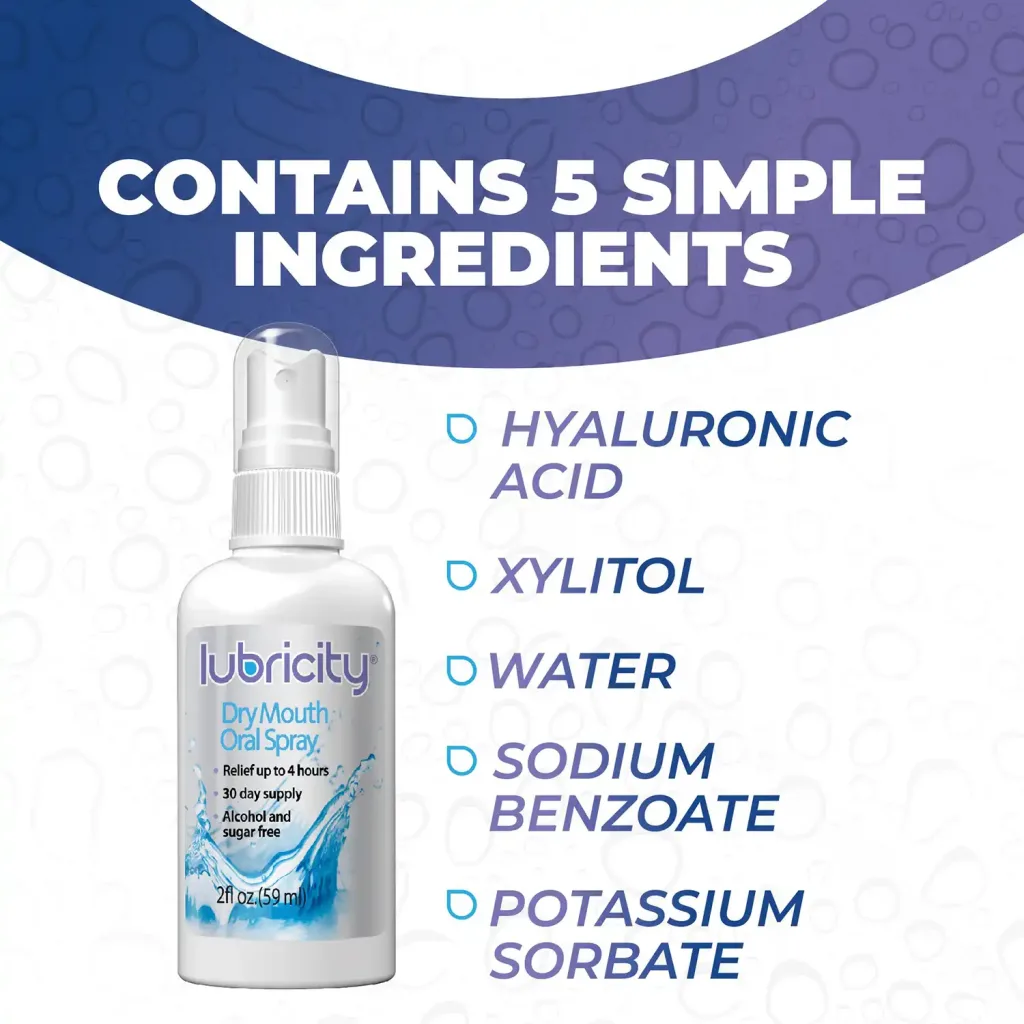 Lubricity Dry Mouth Oral Spray is made from a blend of natural ingredients, including hyaluronic acid, known to have lubricating and moisturizing properties similar to saliva. Lubricity also contains xylitol, a natural sweetener that has been shown to promote oral health. The spray is easy to use, and the patented formula provides up to four hours of relief with just one application. 
One of the key benefits of Lubricity Dry Mouth Oral Spray is that it is safe for people over 18 years of age and can be used alongside other medications without any adverse effects. This makes it an excellent option for those who are looking for a natural, non-invasive way to manage their dry mouth symptoms.
In addition to providing relief for dry mouth symptoms, Lubricity Dry Mouth Oral Spray can also help reduce the risk of oral health problems such as tooth decay and gum disease. By moisturizing the mouth and neutralizing acids produced by bacteria, it can help promote overall oral health and prevent the development of these conditions.
A person's quality of life may be significantly impacted by dry mouth, which is a frequent symptom of diabetes. People with diabetes can effectively manage their symptoms and preserve their oral health by being aware of the connection between dry mouth and diabetes and using products like Lubricity Dry Mouth Oral Spray.
Consult your healthcare physician about Lubricity Dry Mouth Oral Spray and how it can help you if you are suffering symptoms of dry mouth. It is a fantastic choice for individuals looking for a safe and productive solution to control their symptoms of dry mouth due to its natural ingredients and long-lasting comfort.
What do customers say about Lubricity Dry Mouth Spray?
"I'm still having a bit of a battle with Covid, although I'm winning. It seems like it's an every other day thing now. So weird! One of the worst symptoms now is dry mouth. I'll be perfectly normal and then all of a sudden my mouth will just turn to cotton. This lubricity is the best thing I have found for treating dry mouth. I highly recommend having it on hand."
"Due to removal of a saliva gland my mouth is dry and teeth are hard on tongue. This product is a great moisturizer, especially at night. When I wake up my mouth and lips are not dry"
"I have a problem with my throat....have had a balloon put in my throat years ago. The lubricity has surprisingly kept my throat from closing again. My doctor has been really surprised and happy with the results."
"Great for Dry Mouth! It has turned out to be invaluable to recouping process from Head & Neck radiation treatment & removal of a saliva gland."