Oprah Winfrey Makes Headlines after Bout with Dry Mouth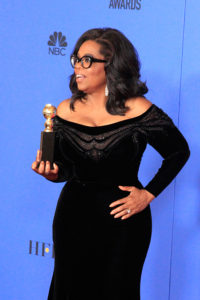 No one is immune to dry mouth, and the myriad issues that it causes. Even Oprah Winfrey, one of the most successful entertainers and entrepreneurs on the planet, has to deal with it.
According to a recent story on People.com, she discovered dry mouth and its effects when she delivered a now-famous speech while accepting the 2018 Golden Globe Cecil B. DeMille Award, an honorary award bestowed by the Hollywood Foreign Press Association for outstanding contributions to the world of entertainment.
Winfrey made headlines with her confession last week that she struggled mightily during the Golden Globes speech that won her accolades. For the first time in her professional career that includes decades of talking on television she was hit with dry mouth and didn't know what to do.
In the People.com story she discussed it in terms many people with dry mouth can relate to. "I've never had dry mouth. I thought, I can't move my gums! … So I started to articulate to get over my gums…I thought 'what is happening to me'?! I have never had dry mouth before, in my life!"
For the People.com story, click on the following link: http://people.com/movies/oprah-winfrey-reveals-problem-nearly-derailed-famous-golden-globes-speech/