Melanoma/Skin Cancer Detection and Prevention Month
May is National Melanoma/Skin Cancer Detection and Prevention Month. It's an important time for us to take a second look at our lifestyle choices and be proactive against this preventable disease. Do you wear sunscreen every day? If not, you should. The sun's UV radiation has the ability to burn and damage our skin even on a cloudy day! Plus, it can cause wrinkles, skin discoloration, and obviously…skin cancer.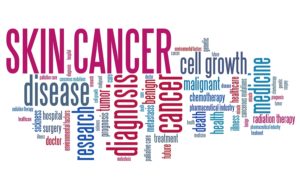 Whether it's a day at the beach or quick trip outside, protecting your skin is crucial. Voluntary skin damage like constant sunbathing and tanning beds involve great risk. If you love the beach, always use sunscreen. If you like to have a tan complexion, consider safe alternatives like spray tans or other self tanners.
Signs of Skin Cancer
On the other hand, it's important to be aware of the signs of skin cancer. Any abnormalities, lesions, or rashes should be reported to a doctor immediately. Self-exams and overall awareness of your body should never be ignored! Keep an eye out for strange moles or freckles that increase in size.
We get it–you're in a rush. You forget. You don't like the sticky feeling of sunscreen. Whatever your excuse may be, your body and skin will thank you later when it is clear, radiant, and cancer-free. Love your body enough to take care of it!